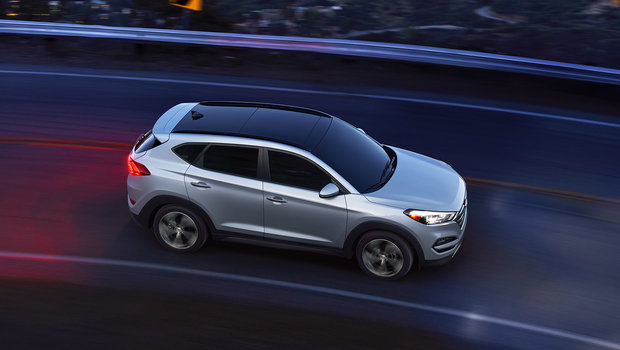 Fully redesigned a few years ago, the 2017 Hyundai Tucson has a lot of competition in its busy segment. Hyundai's new compact SUV offers a choice of powerful and fuel-efficient engines, a spacious cabin with generous cargo space, and a host of advanced connectivity and safety technologies.
Performance does not come at the expense of efficiency with the 2017 Hyundai Tucson.
The 2017 Hyundai Tucson offers two four-cylinder engines that are both fuel-efficient. The first is a 2.0-liter, four-cylinder engine developing 164 horsepower and 151 pound-feet of torque.
The second is a 1.6-liter turbocharged four-cylinder engine developing 175 horsepower, and more importantly, 195 lb.-ft. of torque available from just 1,500 rpm. While the first engine is refined and quite fuel-efficient, the second offers impressive performance with its torque delivered at low rpm, which gives the driver a great sense of confidence.
Even better, the Tucson's turbo engine features better fuel economy ratings than the 2.0-liter engine when the two are combined with all-wheel drive. That said, both Tucson engines remain fuel-efficient with an average fuel consumption rating of 10.2 liters per 100 kilometers for the base model and 9.3 liters per 100 kilometers for the turbocharged engine.
All the Space and Features You Want in the 2017 Hyundai Tucson
Along with its efficient engines, the new Tucson features 877 liters of cargo space with all seats in place and 1,754 liters with the rear seats lowered. Total passenger volume is 3,771 liters.
Available starting at $ 24,999, the new Tucson comes standard with heated seats, a 5.0-inch center screen with a rear-view camera, and LED lights integrated into the headlights. Of course, the Tucson range of models includes a lot more equipment, including leather seats, a blind spot monitoring system, dual zone climate control, panoramic sunroof, 19-inch wheels, power liftgate , Apple CarPlay and Android Auto functions, push-button start, and much more.
To learn more about the new 2017 Hyundai Tucson, contact us today at Hawkesbury Hyundai!