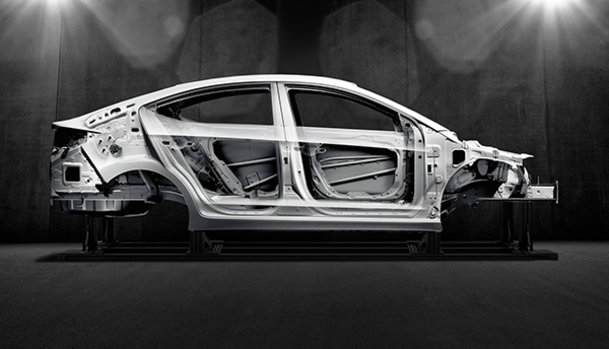 Unveiled last year on the new 2017 Hyundai Elantra, Hyundai's new Superstructure stands out in a number of ways, starting with its design.
Since Hyundai is primarily a steel producer, the automotive division has access to high-strength steel at a more affordable rate than other manufacturers. This allowed Hyundai to develop a new structure composed of 53 percent high-strength steel.
This design has many advantages in terms of safety, road behavior and comfort. Let's take a closer look.
Safety
The new Superstructure is much more rigid than a traditional structure due to the high strength steel used to construct it. This rigidity means that it is much more resistant to impacts and therefore allows the Superstructure to better protect the occupants of the 2017 Hyundai Elantra.
Comfort
Being more rigid, the Superstructure reduces vibrations felt in the passenger compartment, and better absorbs the impacts generated by holes and bumps in the road. In doing so, passengers get a greater level of comfort.
Performance
Again, the rigidity of the Superstructure improves the performance of the 2017 Hyundai Elantra by providing sharper handling and greater cornering stability. Like the structure of a sports car, the Superstructure won't twist and bend, and the driver immediately feels more comfortable behind the wheel.
To learn more about the new Hyundai Superstructure offered in the new 2017 Hyundai Elantra, contact us today at Hawkesbury Hyundai!