First Responders Appreciation Program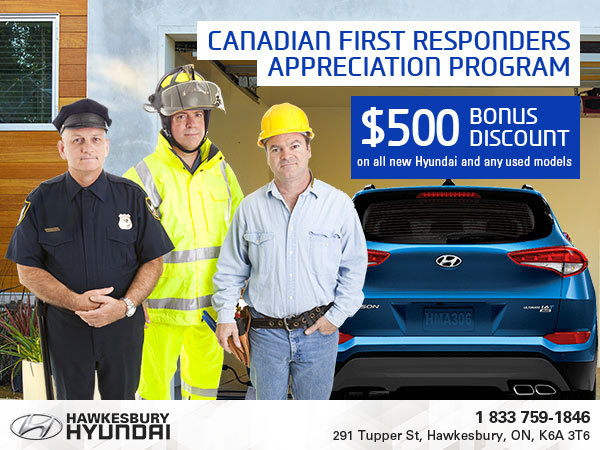 Hawkesbury Hyundai salutes our Canadian First Responders with a $500 BONUS DISCOUNT on all new Hyundai and any used model
passenger cars, trucks, SUVs and vans.
Effective immediately, our
CANADIAN FIRST RESPONDERS APPRECIATION PROGRAM
offers active and past members a $500
(tax inclusive) bonus discount towards the purchase and lease of any new Hyundai or passenger vehicle for sale.


The program can be used by the following groups:
- All Service Personnel (past or present)
for the Police, Fire, Military, EMT, Hospital staff and City employees.
- The spouses for the above (proof of documentation required)


Eligible individuals need only provide their proof of membership (or proof of relationship to a Canadian First Responder) to be eligible.

There is no restriction on the number of vehicles an individual can purchase/lease. The bonus can also be added to other regional or
national sales incentive programs currently being offered by Hyundai Canada.

To take advantage of this program, please provide proof of eligibility at the time of purchase. Contact us today for more information!